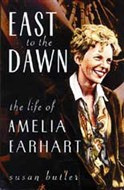 This audiobook was obtained from Overdrive Audio for free through the Alachua County Public Library. It was 18 hours and 43 minutes long, and was narrated by Anna Fields.
This is the story that goes beyond the legend, and beyond the comfort zone of many who may have admired her. She was a brave and daring aviator, an outspoken feminist, and a bit of a head case.
Back in the early days of aviation, there was very little regulation and it was one of the places where women had the most freedom. Amelia Earhart learned to fly from another woman pioneer, Neta Snook. Amelia had learned about mechanics from her days as an ambulance driver during WWI, when you also had to know how to fix your vehicle. And it's a good thing, because early airplanes needed to be fixed often.
Flying was just a hobby for her for several years. She was earning her living as a social worker. Other women were looking to be the first woman to cross the Atlantic after Charles Lindbergh had become an international celebrity for doing so. American socialite named Amy Guest, who was also a pilot, had wanted to do it, but her family made her back off. She still wanted the project to go on, so she offered to back someone else that she would recruit who would have the right image and do women proud.
Amelia Earhart got the call from a promoter who had heard of her, and asked if she wanted to fly across the Atlantic. Amelia jumped at it, and it made her fortune. She used it as a springboard for a speaking and publishing career.
Amelia eventually married her publisher, who had been married when they first began working together. She didn't want to be tied to one man, however, and actually requested that theirs would be an open marriage.
This book chronicles Amelia's life from early childhood to her disappearance over the Pacific in 1937. Very little is left unexplored, and it done in a sympathetic manner. It's hard to put down, and full of interesting information. That's what makes it a four star book for me.