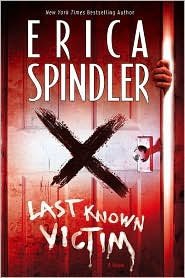 This audiobook was obtained for free from Overdrive Audio, through the Alachua County Public Library. It was 11 hours and 51 minutes long, and was narrated by Susan Ericksen.
I thought I was discovering a new author, but as I was searching for the cover art, I discovered that she has 12 titles in print, and that there are 8 books that are no longer in print. It goes to show you that you can develop a fan base while much of your market still does not know you exist.
This book is about Patti O'Shay, a police captain in New Orleans, who lost her husband, another police officer, during the upheaval of Hurricane Katrina. There is some evidence linking his death to an at-large serial killer the press has labeled "The Handyman" because he collects his female victims' hands. Suck a collection is discovered when a stinking refrigerator is found, after Katrina, with some decomposing trophies.
The Handyman has survived, however. And he is stalking an exotic dancer who distrusts the police so much that she tells them enough lies to screw up the investigation, and to make herself a possible suspect.
At times, it seemed like this book was just too busy. The love lives of the characters were not interesting enough to rate the distraction it created. However, the characters are well written and complex enough to be believable. It's a 3 star book.