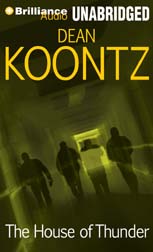 This audiobook was obtained for free from Overdrive Audio through the Alachua County Public Library, It was 9 hours and 57 minutes long, and was narrated by Laurel Merlington, and an uncredited male narrator.
Susan Thornton is a 32 year-old physicist who works for the Milestone Corporation. She suffered a head injury during a serious auto accident, and now all she can remember is the murder of her boyfriend during a college fraternity hazing. And this is relevant because the four sadists who killed the boy are either patients or are working at the hospital where she is recovering; even though they all have been dead for years.
The four miscreants are now bent on exacting their revenge. And Susan cannot get anyone to believe that the four young men who are all still the same age as they were 13 years ago are out to get her. Is she losing her mind? Is it a vast conspiracy? Well, this is a Dean Koontz novel, so it has to be the latter. This novel was originally published under a pen name, Leigh Nichols, back in 1981. And that's the only clue I will give you.
A fairly engaging thriller with gripping fear, violence, and a bit of romance; this is not Dean Koontz at his best. But it is a good writer at home in this genre, so I give it 3 stars.